10 meals we would happily dive into all year-round.
Photo of Uma Casa by
Krescent Carasso
Uma Casa
Portuguese meals are meant to be shared—and Uma Casa on Church feeds those who come for a meal worth its weight in saffron. Not-so-fun fact: Until the end of last year, SF didn't have a Portuguese restaurant. (Sad.) We're totally excited to be dining with one-of-a-kind dishes while drinking plenty of Portuguese wine and beer — operating partner and beverage director Nora Furst has prepared the menu to pair very beautifully with the dishes. // 1550 Church St, Noe Valley umacasarestaurant.com
The Kebabery
Chef Traci Matsumoto-Esteban has brought the art of grilled skewers to the city of Oakland and none have looked back since, hence kebab. The menu is almost all organic, and offers lamb, chicken, king trumpet mushroom, and pakora fried vegetable kababs which will change with the seasons (expect kabocha squash, cauliflower, and the like), with sides like sauerkraut, beet, or carrot salads. "[The Kebabery] is not really Middle Eastern," said Allison Hopelain, co-owner of The Kebabery. "There isn't hummus or falafel." The restaurant is a petite homage to the success of "kebab night" in the (co-owners Russell Moore, Allison Hopelain, and Brian Crookes) popular Monday night supper series. Oakland, are you ready for some good eats? // 4201 Market St, Oakland, thekebaberyoakland.com
Mestiza Tacqueria
Mestiza (meaning of mixed culture or heritage in Filipino) is a cultural mash-up rooted in the casual Mexican taqueria-like traditions. And, for good measure, with added flavor profiles of other vibrant street-food fare—the Philippines, Thailand, Indonesia, Vietnam, and Cambodia. Owned by Deanna Sison Foster, this concept was created and influenced by her Filipino roots. The Cambodian-born, former Chopped Grill Masters winner, Sophina Uong is the executive chef and helms feeding the SoMa souls who come for the mixed creations. Though if you're looking for originals, try a bite off their creative minds: Filipino Pork Adobo, Thai Red Curry Beef, Khmer Lemongrass Chicken, Carne Asada, Hongos Y Rajas, and Pescado Al Pastor are all in attendance. // 595 Bryant St., SoMa, mestizasf.com
Contrada
Chef Jason Tuley's rustic, yet refined cuisine is defined by seasonal choices, market sourcing, and inspiration achieved from decades of cooking locally...and in Italy. His experience at Contrada adds to the warm and inviting flair that the spot attracts on the daily. At Contrada, Tuley utilizes his extensive experience to showcase wood-fired cookery, whether you're ordering an oven-roasted pizza or anti pasta for brunch, Contrada promises that you will taste that Cal-Ital style. Also note the 16 California wines on tap, an enormous sustainably-focused wine list with more California wines as well as a bunch from Italy, and, for those who don't love wine, eight local beers on tap, 12 more by the bottle, and three low ABV Italian-inspired cocktails. Get to taste their anti pasta list and rotating pizza selection: we're absolutely loving the classic Margharita. // 2136 Union St, Marina, contradasf.com
Babu Ji
A New York haunt has planted its roots in the heart of San Francisco's Mission district—with competition such as Duna, Mission Chinese, Cha Cha Cha, etc; adding another delicious spot to your menu will be a no-brainer. The restaurant offers a chef's tasting menu for $55, perfect for those who want to impress a date or even celebrate a fancy birthday. A must try is the Colonel Tso's cauliflower, tandoori chicken, naan pizza, or duck curry. Plus, hello... a self-serve beer fridge is a die hard yes. See you in line. // 280 Valencia St, SoMa, babujisf.com
Hitachino Beer & Wagyu
Chef Noriyuki Sugie along with master brewers of the Kiuchi Brewery family are bringing their far range of roasted pints straight to your gullet. Brewing since the 1800s, the family has been cultivating their alcoholic beverages for nearly eight generations. The family also doesn't import any of their malts or hops but instead, farms their ingredients from scratch in their home province, Hitachino. For their "Wagyu", Wagyu is any of four Japanese breeds of beef cattle, the most desired of which is genetically predisposed to intense marbling and producing a high percentage of oleaginous unsaturated fat.. You can expect platters and charcuterie to accompany your alcoholic selections. For those who look for extreme tastes, The Kiuchi Brewery will showcase up to ten brews at the flagship, which will only be available on-site. This can include limited edition brews only found in Japan. It's like world traveling without paying the airfare. // 639 Post St, Tenderloin, hitachinosf.com
Gastropig
Pork snobs come and get your fill because Gastropig's menu of pigish delights are seriously a moan and a heart attack away. Known for their #baconslut sandwich, collaborator's Ann Thai & Loren Goodwin have brought the meat-centrist love to the East Bay. With bites also brought to you by Firebrand Artisan Breads and coffee from small batch roaster, Moschetti Coffee, the focus is on a limited menu that is consistently perfect every bite of bacon at a time. // 2123 Franklin Street, Oakland, thegastropig.com
Fiorella
Under the direction of Dante Cecchini, former Chef de Cuisine at Marlowe, this Italian spot seriously brought fusion and passion cuisine to the table. "We are very excited to have Dante on the team and in the kitchen. When Brandon and I first began talking about opening the restaurant, we knew without a doubt that it would be a comfortable, welcoming neighborhood spot with a backbone of honesty," explains Boris, Director of Operations for Fiorella. Many of the new offerings shift slightly from the Fiorella classics with bright twists, like the cucumber and fennel salad, which is served in modern California-style with long ribbons of cucumber and thinly sliced fennel over crème fraîche, and dusted with fresh mint. Holy yum, neighborhood brunch has got a lot better. // 2339 Clement St, Inner Richmond, fiorella-sf.com
Onsen
As we reported in early October, we were incredibly excited for Onsen's grand opening and, with much hype, the newly renovated spa and restaurant delivered. With a dinner of Japanese-influenced seasonal cuisine by Chef George Meza (formerly Oro and Ame)—think rice porridge with house kimchi, maitake dumplings with cabbage, sweet yam, mushroom broth and dill, and a daily sashimi offering. The plates are presented like a piece of art and really express the Japanese flavors of the now. Of course, their drinks are also on point, with teas from Taiwan, China, and Japan, including straightforward and medicinal varieties, plus single-herb tisanes, kombucha, and infused honey and herbs. The alcohol list focuses mainly on Japanese sakes (with thirteen on tap), as well as a limited amount of beer and wine. // 466 Eddy St., Tenderloin, onsensf.com
Sababa
What happened to be a stumble upon sort of experience turned out to be the most filling FiDi lunch we've ever had. Sababa on Kearny has been feeding the hungry souls who come to fulfill their lunchtime fantasies, and owner / chef Guy Eshel isn't slowing down. "FiDi was a natural choice because our food is quick, fresh, and healthy. For people that eat lunch out several times a week, they can come to Sababa and have a real meal, with vibrant flavors and seasonings, but within their lunch hour and budget. Bringing the traditional flavors of Israeli eats and the modern fast-paced atmosphere of SF, Eshel wanted to make his first opening a bellwether instantly. "Sababa is a fast casual concept that combines Israeli street food classics with creative Mediterranean-inspired mezze salads. The atmosphere is a modern, hip SF vibe but the food has authentic flavors and dishes." Without missing a beat, Sababa has seamlessly worked its way into the SF food scene. // 329 Kearny St, FiDi, sababasf.com
An appetizer should not be treated like a second thought. In this realm, even the tiniest snacks has the largest impact.
Photo of Drip Line Oakland
by Ashley Tarr
Frena
A *kosher* San Francisco bakery specializing in freshly baked pastries, maybe even the only one. Their journey began with great Grandfather Mosheh who traveled from Iraq to Israel carrying with him a wealth of delicious recipes used still to this day. Offering a rich culture into their bites, Frena wants you to experience the smells and tastes that they have grown up with. Their selection of savory pastry platters include traditional and homemade ingredients cooked the way Grandfather Mosheh would have cooked it. All in all, great for the whole family. // 132 6th St, SoMa, frenabakery.com
Drip Line Oakland
Amidst West Oakland's brick warehouses and metal fabricators, Drip Line offers a vibrant gathering place for magnificent coffee and food in a modern, light-filled space. Chef Nora Dunning's menu combines sweet, salty, bitter, sour, and spicy flavors, for a cuisine influenced by her Singaporean roots and her Northern California home. No stranger to community, Nora welcomes all walks of life to taste her menu including her delish Black Rice Porridge. And for those who want a pro tip: we highly recommend grabbing their version of the matcha latte. It blew our socks off so hard, we were day dreaming about it in the office. // 1940 Union St #21, Oakland, driplineoakland.com
Saltroot Cafe
Ever met a Brazilian spot that specialized in cheese puffs? We didn't think so. This Outer Richmond treat are for those longtime locals who (don't) wine and dine the assortment of Brazilian cheese puffs, cakes and vegan pastries. (Yes guys—vegan.) "Pão de queijo is a traditional Brazilian recipe," said owner John Goyert. "We started looking for ways to sell them, even before we decided to open a cafe. We sell bags of frozen [puffs] at $6 for 10 for people to bake at home. And in the cafe, people will be able to buy them freshly baked too." If this isn't grand customer service, then we don't know. // 2960 Clement St, Outer Richmond, saltroot.com
Wise Sons' Deli
A Jewish delicacy shared during Passover, the matzo ball soup by Wise Sons' Deli is agreed by the fresh Jewish faces who visit the kitchen to be an authentic Jewish meal—the kind your bubbe used to make. What you can expect from this soup is a rich and well flavored broth, with extra dimension from lots of fresh herbs and seasonings flavored day of. Fresh cut carrots, hefty pieces of torn chicken meat, and not too many thin noodles can also be found. However, the balls are the best part: one ball per bowl and larger (bigger is not better when it comes to matzo balls), but the matzo still has the density and bite of its smaller counterparts. Go out and celebrate Pesach every day! // 3150 24th St, Mission, wisesonsdeli.com
Bowl'd Açai
"We started this project because we wanted to provide easier access to raw juices, healthy smoothies, and most of all, our amazing Acai bowls. Our juices and smoothies are packed with micro-nutrients and our bowls are made with 100% organic Brazilian Acai Berries," said owners Reza Morvari and Angel Serratos. These two acai aficionados have been supplying the Bay Area with super fruits since the beginning of the berry trend. Growing up together in the Bay Area, Reza and Angel found mutual interest in health & fitness and now apply this passion for life through Bowl'd Acai! Of course, their so popular now—their bowl names match to boot. Try the 'Original Gangster': a mix of acai, strawberry, banana, coconut water with various toppings. // 14 Mint Plaza, SoMa, bowldacai.com
20th Century Cafe
Walking into 20th Century Cafe feels like a little slice of what a cafe in Budapest, Prague, and Vienna would be like—and the menu is a wonderful Northern California interpretation of all of these cities' cuisines. Using the most seasonal and local produce, 20th Century Cafe offers delicacies such as duck liver mousse with pickled vegetables, wild boar sausage with apple butter, sauerkraut and roasted fingerling potatoes, or cream of green garlic soup if you aren't doing the meat thing. What really stands out though? The picturesque trays of cakes and shortbreads (go for the honey cake if it's still there), staring at you the minute you walk through the sunny doors on the corner of Gough and Oak. Those layers of buttercream and spongy cake that are totally interfering with your Soul Cycle regimen? Totally worth it. // 198 Gough Street, Hayes Valley, 20thcenturycafe.com
LocaLs
The 'ironically' critically acclaimed fast-casual, Locol, is setting up their newest venture: the Locol Bakery. Eater had news that the team was taking over the former Tomm's Bar-B-Q & Deli space at 3446 Market Street to offer pizza, pie, and already popular Locol drink items like "green juice" and agua fresca. Of course, if you haven't seen the news behind chefs Daniel Patterson and Roy Choi's East Bay creation, New York Times critic Pete Wells gave a rough review of the existing Oakland Locol location. Which made notable chefs and news outlets in the area question both Local and Pete Wells interaction. Regardless, Locol's Choi and Patterson appear to have taken the criticism thoughtfully and somewhat in stride. They recently revamped their menu of reasonably-priced cheeseburgers, shakes, "foldies" (which are like quesadillas), and more. Be prepared, $1 black coffee is definitely involved. // 3446 Market Street, Oakland, welocol.com
Heartbaker
Heartbaker is pastry chef Sybil Johnson's labor of love—a love of handcrafted baked goods combine professional refinement and homemade flavor. From delicious breakfast treats to exquisite cakes for any occasion, Heartbaker aims to provides reliable service and impeccable quality. Sybil's innovative style blends traditional and familiar recipes with unexpected and creative flavors, resulting in an utterly delicious and completely unique producta. // 1408 Clement St, Inner Richmond, theheartbaker.com
Kenny's Heart & Soul
Born in Onondaga, NY, owner Kenny has had an international existence. He was raised in Taiwan where, at age six, he learned his most important lesson about food: keep an attitude of spiritual humility when cooking. Kenny has always enjoyed cooking for friends and large gatherings; it kind of came with the territory being from a family of nine kids. This owner built his cooking repertoire on tried and true recipes, modifying technique and taste to build a menu born of tastings involving restaurant owners, food critics (they like to call them family and friends) and food handlers alike. Today, served both out of his moving food truck and flagship location, his recipes such as his BBQ Pork Mac N Cheese can live on in the hearts and stomachs of Oaklandians daily. // 4559 International Blvd, Oakland, kennysheartandsoul.com
Venga Empanadas
¡Venga! Empanadas was founded by Manuel Godino, a refugee from the restaurant business who came to San Francisco by way of Madrid and Buenos Aires. Born in Cádiz on the southern tip of Spain, Manuel (known to his friends as Manolo) started cooking when he was seventeen when he realized he could cook as well as his mother. In his twenty-plus-year career as a chef, he has cooked in all kinds of places, from ninety-man petroleum tankers to Italian restaurants to fancy French bistros in the heart of the Parisian. In Buenos Aires, he had a popular pizza and empanada joint called Jalapeño now that extends to his current Mission outpost. Served both vegetarian and carnivorous alike, we sink our teeth into his Super Kale empanadas every time—expect kale, bacon, beets, carrots, tomatoes, and fresh almonds. // 443 Valencia St., Mission, vengaempanadas.com
Get your dentist on the horn because these sugary sweets are meant from everyone with the weakest enamel to the peeps with the brightest whites.
Photo of Third Culture Bakery
by Ashley Tarr
Third Culture Bakery
Making a business for yourself is never easy and for executive pastry chefs Wenter Shyu and Sam Butarbutar, this duo had created a legend before inception. Homed and baked with love in Berkeley, the birth of the original Mochi Muffin can be credited to the genius of Sam and his innate talent for fusing all sorts of flavors. "The #MochiMuffin is totally Sam's baby and I can't take any credit for (except in eating a bunch!)" Wenter tells us, "Sam wanted to create a gluten free item and thought of putting his own twist with Indonesian flavors from his childhood and infusing it with a "Hawaiian Butter Mochi" and it really just took off from there!" An east meets west meshing of cultures that disrupt the pastry world! The brainchild of We The Minis and Sam's Patisserie, the duo's work reflects their upbringing of being from very opposite cultures. The foods from their parent's meshing of American and European styles. But in case if you're wondering, yes, they were the first to bake it, "others are literally the original rice mochis but just baked. Ours have been in production for the past almost 4 years now!" // thirdculturebakery.com
Steep Creamery and Tea
Tea is what Steep Creamery loves—ice cream rolls and boba is how they express that love. At their specialty SoMa boutique, all items on their hella long menu are backed by highest quality / organic ingredients, highly technical trained hands, and perfect timing throughout any season. You won't find sprinkles, syrups or shortcuts here. Though, crowds keep crawling back to get their hands on Steep's famed Ice Cream Rolls. This specialty quality ice cream meets a Thai-inspired pan-frozen technique that results in a creamy, consistent & flavorful cup of ice cream rolls that has Instagram being opened by the minute. // 270 Brannan St, SoMa, steepsf.com
Castro Fountain
Pastry Chefs Lori Rich and Chris Gallen of the nostalgic Ice Cream Bar have now transitioned their infatuation for all things diner cuisine onto the new menu of The Castro Fountain. Daisy-yellow cakes with chocolate fudge frosting crumb the white plates of soon-to-be delighted patrons; slices of warm pecan pies giveaway at the gentle pressings of aluminum forks; gooey butter cakes, nestled beneath opaque parchment, induce Pavlovian-like responses in the salivary glands of all those who see them. And, of course, there's a litany of made-to-order, hand-crafted sodas available to the curious foodie. Using a bevy of tinctures, extracts, and small-batch syrups, you'll never look at a Pepsi or Coke branded soft-drink again—which is to say you'll forever be disappointed by those soda offerings from there on out. // 554 Castro Street, Castro, thecastrofountain.com
1951 Coffee Company
1951 Coffee is a non-profit specialty coffee organization seeking to promote the well-being of the refugee community in the San Francisco Bay Area by providing job training and employment to refugees and asylees while educating the surrounding community about refugee life and issues. Of course, they make a mean cup of coffee, the part of giving back makes it all the worth while. // 2410 Channing Way, Berkeley, 1951coffee.com
Jane The Bakery
The cute little sister out of the three, Jane The Bakery takes the cake (no pun intended) on delicious bread bites that are handmade with some serious skill. With a similar menu to Jane on Fillmore plus a more extensive selection of pastries, head baker Jorgen Carlsen will start to include mini peanut butter tahini cookies, almond fennel biscotti, chocolate shortbread, and meringue kisses—a savory and sweet kind of love. But of course, if you're looking for the grab and go selection, salads and sandwiches will also be offered. // 1881 Geary St, Western Addition, itsjane.com
Joy's Place
The only downtown cafe that's open daily until 2 a.m., yes... really. Though you may read the Yelp reviews on their bomb hot chocolate, there is one menu item that only San Francisco Korean's will know: patbingsu (or strawberry shaved ice.) Picture this: a lightly shredded ice, milk, and strawberry base filled with strawberry ice cream and mounded with more strawberry-infused ice, lastly topped with grizzled sweetener for an extra kick. That sounds like a dentist trip we will gladly take. And better yet, you can order it from open to close, so satiate that sweet tooth and try it NOW! // 611 Post St, Nob Hill, joysplacecafe.com
Benkyodo
Where mochi came to life in the United States of America, In 1906, Suyeichi Okamura opened Benkyodo Company — one of the original businesses in Japantown, on San Francisco's Geary Boulevard. When the family was interned during World War II, Benkyodo Company was forced to close temporarily amid also the great earthquake of SF. After the war ended, the shop reopened, and in 1951 Suyeichi's son, Hirofumi, took over. In 1959, the shop moved to its present-day location at Sutter and Buchanan Street. In 1990, Hirofumi passed the shop to his sons, Ricky and Bobby. Continuing a family legacy, the two brothers still own and operate the business, bringing the sweet confections to customers daily. If you're looking for the most authentic Japanese confections, this should no doubt be your first stop. // 1747 Buchanan St, Japantown, benkyodocompany.com
Craftsman & Wolves
Under the direction of Chef William Werner, a 2015 and 2016 finalist for the James Beard "Outstanding Baker" award, CAW offers an ever changing menu of breakfast pastries, cakes, breads, confections, confitures, desserts, and lunch seven days a week. For those who are willing to see pass their famed "Rebel Within" and try a couple of their goods outside the box—we totally recommend the raspberry-sweet corn scone. The scone where savory compliments sweet or even their blueberry muffin / triple delight blueberry with salted butter crumbles. All the more nom-worthy. // 746 Valencia St, Mission, craftsman-wolves.com
Andytown
In life, size doesn't matter. Andytown in the Sunset uses their space to their fullest advantage. Even though you may find little to no seating in the joint, their array of beans can keep you caffeinated long enough to find said seat. Their uncaffinated concoctions however are milky smooth with a bite that dances around the taste buds. They aren't joking with this cup of hot chocolate. An array of scones, cakes, and other fluffy snacks are also available at their Instagrammable counter. // 3655 Lawton St, Outer Sunset, andytownsf.com
Nourish Cafe
Nourish Cafe is run by the masterful chefs Brighton Miller and Sarah Bacon — creating delicious meals that feature a plant-based menu offering large salads, fresh juices and smoothies, sandwiches, healthy baked goods, delicious desserts, soups, and much more. So what's the angle of this mother nature table? Eat clean and eat whole, and strive for great taste and flavors. Don't you think it's time to nourish yourself? // 189 6th Ave, Inner Richmond, nourishcafesf.com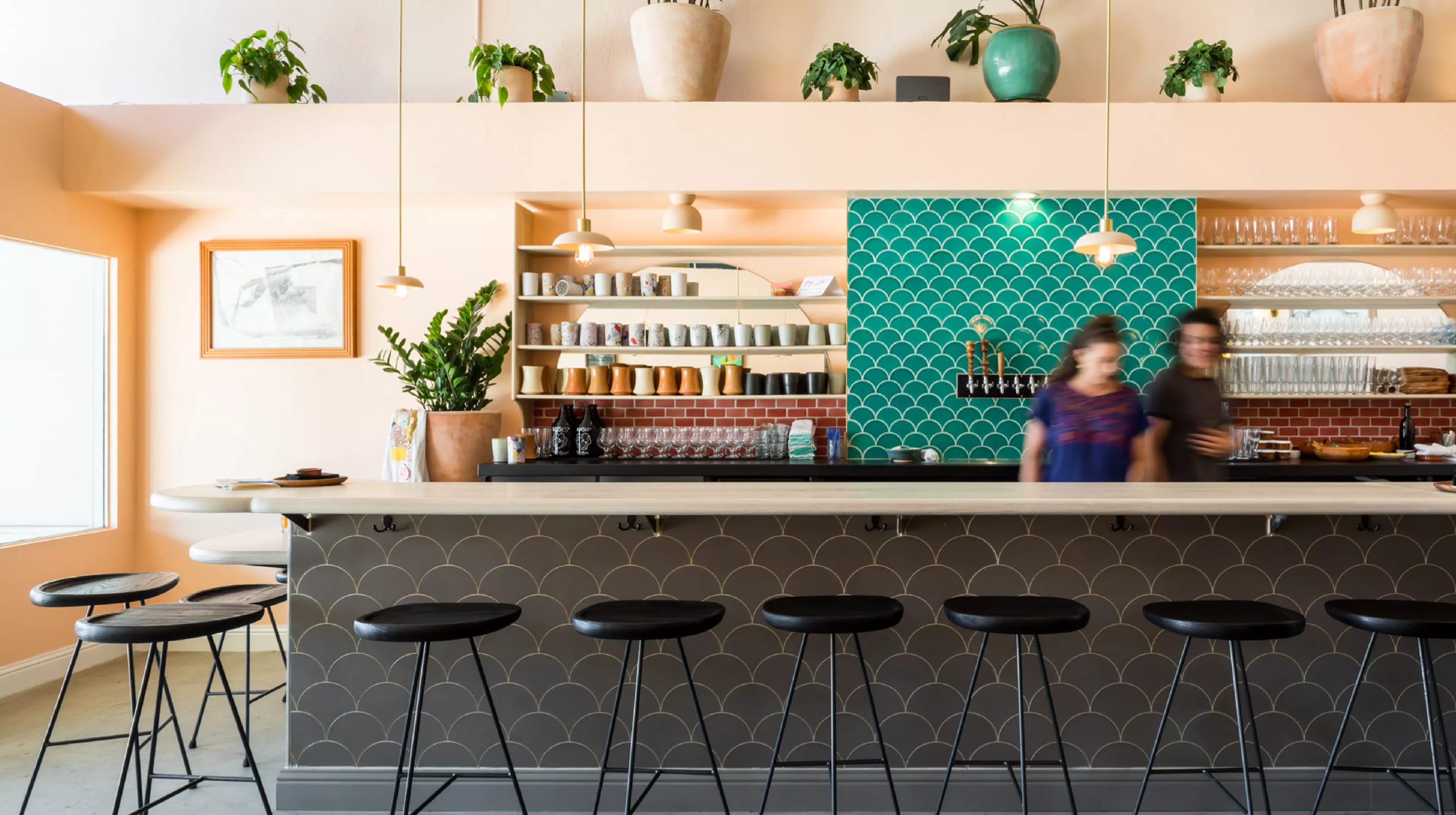 How Do You
Like Your Drinks?
Everyone from the simplest scribe to the advanced mixologist, a fabulous drink is our salute to a Bay Area dining experience.
Photo of Roses' Taproom
by Patricia Chang
Anina
Recently just opened in the heart of Hayes Valley, Anina attracts the locals and visitors alike with three main components. 1.) convenience, 2.) a patio situation, and 3.) an array of tropical cocktails that soothes even the most savage tongue. For our wild Friday nights, we immediately go for their infamous Jinx Remover. Picture: rum, maraschino, absinthe, and lime tincture all wrapped into one gorgeous looking glass. We will for sure scare off the bad juju with this concoction. // 482 Hayes St, Hayes Valley, aninasf.com
Outbound
For the avid N-Judah rider who deserves a good beer after a long commute, Outbound by Woods Beer Co. is the commuter sized club car at the far flung end of the N-Judah tram line. Made to be minimalistic and easy-to-reach, the club only serves what's on their tap at the time. You get a ripe ale, a bangin' IPA, or something even grander—it's all brewed in-house to perfection. You get a taste of both Woods beers and El Porteño empanadas while the fog rolls right on by. // 4045 Judah Street, Outer Sunset, woodsbeer.com
The Riddler
After months of remodeling and transforming the old Momi Tobi's Revolution Cafe, the "old friend" has staked its claim as Hayes Valley's chicest. Confirming nearly 100 varieties of champagne, welcome to the mid-work day oasis we really needed. Along with its impressive drink menu, you can also expect a light tray of caviar, cheese, charcuterie and more! "I'm thrilled to be opening something in Hayes Valley, the neighborhood that I live in," Jen Pelka told us. The Champagne bar is funded entirely by women, a decision Jen says evolved organically. "I've been dreaming of opening a Champagne bar for years. When I began looking for investors, I naturally went to my network," says Jen. "At its core was a group of badass, stylish, financially independent ladies." The name, The Riddler, derives from the part of the Champagne making process known as riddling — a turning and gradual tilting of the bottles, neck down, so that the yeast and sediment from the bottle fermentation process collect in the neck and can be removed. Curating a light menu of bites with Zoe Deeg, Chef de Cuisine (formerly of Locanda), Pelka aims to have her newly set menu cater to a folk of finger foods galore. Offerings are available by the glass, in splits, half bottles, Magnums, Jeroboams, and beyond. Fitting to the lady-power theme, graphics on the menu will call out women-made wines. The restaurant also serves sparkling wines of diverse varietals, a focused selection of still wines, and a single beer: Miller High Life, the Champagne of Beers. // 528 Laguna St, Hayes Valley, theriddlersf.com
Over Proof
A cocktail joint (above the current ABV in the Mission) often not seen in modern day San Francisco, not seen that getting a spot is about a month and a half / or so wait. The concept at Over Proof (including menus and decor) changes every 3 months, and each change focuses on drinks made with one type of spirit, accompanied by (not necessarily paired with) food from the region(s) where the spirit is made. Simple, no? Over Proof is a reservations-only bar, with different and exclusive food and cocktail menus served as a 4+ courses. Now that's setting the fancy tone if we've ever heard it. Served over a 90 minute period. Bartenders and chefs will explain the items presented throughout the evening and how they relate to the featured spirit. Now that's high class. // 3174 16th St, Mission, overproofsf.com
The Rare Barrel
Picture yourself eating a handful of red raspberries, drinking a glass of fresh squeezed lemonade, or sipping on a glass of fine wine. Those sour, tart, and acidic flavors you are currently imagining are what makes sour beer taste quite different from traditional beers. Enter Rare Barrel: Where sour beers age in oak barrels for an average of one year, a blend of microorganisms will shape the sour, tart, and acidic flavors that they've come to desire. Yes, sour beers take an exceptionally long time to develop, but they think that sour beers are well worth the wait. Jay Goodwin, the brew master behind the barrel, has been interested in craft beer since college, when he and Alex Wallash (head of sales) homebrewed beer in their apartment. Jay worked at The Bruery in Orange County, CA for four years before leaving to help start The Rare Barrel. // 940 Parker St, Berkeley, therarebarrel.com
Roses' Taproom
Roses' Taproom is the culmination of a decade of backyard homebrewing, urban gardening, stove top science, and endless dreaming of opening a grain-to-glass taproom. More than 200 batches of beer, husband and wife team Luke Janson and Hillary Rose Huffard, planted the seed to design and build a human scale brewery within a bright, airy, indoor jungle of a taproom. Taking their homebrewing ethos of never repeating a recipe, always improving on previous batches, and brewing beers and ciders to accompany the changing seasons, Roses' Taproom was born of an excitement to share the magic of fermentation with the public and build a community hub where everyone feels at home. // 4930 Telegraph Ave, Oakland, rosestaproom.com
The Treasury
These low-key nautical themes coming out of the Treasury on Bush street fill our 'Bioshock' feelings to a tee. This lively, lighthearted bar located in the heart of San Francisco's Financial District offers delicious cocktails, craft beer, well-chosen wine, and chef-caliber bar snacks in a beautiful 1916 Beaux Arts space that feels lush, classic, and comfortable. Head bartender Carlos Yturria's cocktails vary between strong liquors and bubbly concoctions but always hinting a tropic after taste. If you can, let him shake you up a perfect Treasury cocktail, they're down right intoxicating. // 200 Bush St #101, FiDi, thetreasurysf.com
Alembic
A dimly lit escape in the Haight, Alembic is a perfect date spot with their inventive craft cocktails and rotating dinner bites. Though the one man you need to know while you're sipping down their New School cocktails is Hector Valencia. This spirits master joined The Alembic team three years ago and has since worked his way to head barman thanks to the strong tutelage of his former bar managers and talented industry peers. Assuming the role of bar manager has allowed Hector to create a program with influence from his artistic background and south-of-the-border heritage. One of the first cocktails Hector created for The Alembic was the Brown Wolf made with mole bitters, a flavor that reminds him of his childhood. // 1725 Haight St, Haight Ashbury, alembicsf.com
Buffalo Theory
Stocking more than 40 craft beer taps and the familiar comfort food of home, beer master Tim Kim and executive chef Tim Luyum along with owners Quinn Wong and Gil Hoh are bringing the art of beer to Nob Hill. "I like where craft beer has gone, and I think there is a great area where you can have this geekiness about beer and offer a lot of different varieties without being a snob," Tim Kim said to SF's Hoodline. "Some people might want an IPA, and some may want something lighter, like a kolsch or a pilsner. We like to offer tastings so people can choose something they want before committing to it."This collaboration space comes from the minds of all the owners involved, Quinn Wong first acquired the Polk Street space in 2008, with the intention of turning it into a spa. During that time, he said, "mortgage rates were really high, and he soon ran out of funds to do a buildout." After an extensive search, he finally found a bank to help refinance the space in 2013. Thereafter, he and co-owner Gil Hoh had celebratory beers at the neighboring Bell Tower. After their "third beer," they decided to open a restaurant together, he said. They put together a business plan, got investors, and brought on Kim to handle the beer side of things and Luym to oversee the food. This exciting new beer club covers both local and international breweries and a variety of styles, from saisons to sours to two beers on nitro (currently, a stout and a blood orange IPA). Forging relationships with local breweries, Buffalo Theory is sure to fit into the San Francisco bar scene well. // 1735 Polk St, Nob Hill, buffalotheorysf.com
Stonesthrow
An extensive beer list with a balance between large format, hard to find beers, as well as familiar namesakes combined with a wine menu driven by the ideas of value, balance, and a hint of adventure complements the experience making the bar a fun spot to stop by and grab a pint with friends. Stones Throw, a California / American restaurant and bar situated in the heart of San Francisco's renowned Russian Hill neighborhood, has always gone back to the basics, highlighting the simple things in life: great food, undying hospitality, and a fun, carefree environment where everyone is welcome. Here you'll find wines from up and down the 101—"more fruit than earth" is how they would describe their ever expanding list. Chosen for their easy drinkability and no fuss nature, pop and pour juice with every label written in English at no additional cost. // 1896 Hyde St, Nob Hill, stonesthrowsf.com
And of course, a meal isn't complete without the men and women who slave over a hot stove to provide you with the only best. Hats off to them.
Photo of Chris Kiyuna
courtesy of The Perennial
Chris Kiyuna // The Perennial
Head Chef Chris Kiyuna is a native Oregonian but a culinary Californian for the 17-month open The Perennial. Driven less by tradition than by his belief that cooking has a moral element, he strives to express what ingredients are at their best, and to offer a serious engagement with the environment by way of the fleeting-yet-fulfilling pleasures of food. Chris was previously chef de cuisine at Mission Chinese Food, after staging at restaurant Noma in Copenhagen. Chris was also acknowledged this year (along with Fernay McPherson of Minnie Bell's Soul Movement and Michelle Minori of Barzotto) as a Rising Star Chef by the SF Chronicle, he was included with the accolades of the paper's turn from an all-white chef selection; Chris continue's to impress with his attention to flavor, detail, and rather jestering "un"-perfectionism. With stints at Mission Bowling Club and various other stoves, he's learned to be adaptable. [He told the Chronicle]: "I feel like maybe we were a little hard on ourselves early on, trying to be too perfect and yet appearing to not be too perfect," he says. The restaurant [The Perennial] has to appeal to diners who don't care about the spent walnut shells he uses to smoke trout bones for stock, diners who only want a good meal." And a good meal they shall get. // theperennialsf.com
Preeti Mistry // Juhu Beach Club
Since it opened in 2013, chef Preeti Mistry and business partner and wife Ann Nadeau have been steadily growing a dedicated following (including Anthony Bourdain) for Juhu Beach Club's flavorful South Indian cuisine. Born in London and raised in the US, Preeti's Indian culture, extensive international travel, classic French culinary training and access to the best local California ingredients inspire her cooking. She enjoys building intense flavors, and truly shines when working with sauces, soups and vinaigrettes. Preeti's commitment to seasonality, and her relationship with small local farmers are at the core of her cuisine. If she were a food, she says, "I would be a green zebra tomato – extremely distinctive from all the others, a little hard on the outside, but pure love at the center." When asked about her favorite summer recipe, "Fennel Crust Marin Sun Farms' Rack of Lamb, Saffron Parsnip Puree, Heirloom Carrot and English Pea Ragout with Pinot Noir Reduction." Major YUM. // juhubeachclub.com
Tim Luym // Buffalo Theory
Chef Tim Luyum, formerly of Poleng, is ecstatic to be behind the grill again for Buffalo Theory, ""For me, it's really about having fun again while cooking. Being an executive chef and business owner can sometimes take away from the actual job of cooking, because there are so many responsibilities that come along with operating your own business. So, this time, just being hired on as a chef and working with Lawrence Lee and a great team, I can really focus on the food." So what can you expect from this up and coming spot / chef? "I'm into street foods, and I am a purist by nature," Luym said. "A lot of the dishes they are allowing me to make here are a reflection of myself. It's food that I like to create, and it matches well with our beers and wine, so it's a fun project to collaborate with." AMEN. // 1735 Polk St, Nob Hill, buffalotheorysf.com
Sara Hauman // Octavia
San Francisco's culinary scene has a rising new star: Sara Hauman takes bat with Octavia. Octavia's new Chef de Cuisine since early May, Sara wasted no time putting her stamp on tried and true dishes while also creating new items for the summer. A veteran of Huxley and Mister Jiu's, Sara brings a rustic and comfort food-leaning style of cooking to Octavia. Don't expect heavy, overly rich dishes that immediately induce a REM sleep cycle upon paying the bill, though. Instead, her food is light, bright with acidity (she even does her own pickling and makes her own vinegars) yet still packs a hearty punch. No wonder she earned a finalist slot in the 2017 James Beard Award. With Sara now on board, Octavia boasts a badass, all female team. She joins Sarah Bonar, head pastry chef, and Melissa Parello, the mastermind behind Frances. The future's looking bright for female chefs in the San Francisco culinary world. // octavia-sf.com
Francis Ang // Pinoy Heritage
Chef Francis Ang's contemporary Filipino concept Pinoy Heritage is popping up all over the San Francisco, as part of the restaurant's weekly Sunday Supper pop-up series. Have you not tried this culinary excellence? It's a must. Since debuting during Filipino Heritage Month (October) — the overwhelming response from eaters clearly set the tone for the concept kitchen going forward. So much so that Ang resigned from his position at SoMa's Dirty Habit (formerly Fifth Floor) and to pursue this grill more intently. "People are craving Filipino food," Ang told us. "At Dirty Habit and Fifth Floor, I put Filipino dishes on the menu. Some people didn't even know what they were eating, but they kept asking for it." If you haven't familiarized yourself with the kitchens menu, they serve all your fave Filipino classic's while still modernizing it for the California palette. Expect to see hometown dishes on his menu such as pinakbet (vegetables cooked in fermented shrimp paste) and kinilaw (fish marinated in vinegar, sugar, citrus and sometimes coconut milk). Make sure to also grab a selfie with Francis as well, he's quite photogenic. // pinoyheritage.com
Dennis Lee // Namu Gaji
Executive Chef Dennis Lee (and his two brothers) are gearing up new menu items to express his and his brothers' passion for the Korean dishes they grew up with—the Lee brothers have a lot on their plate to prepare. Think: an opening of a noodle bar and Korean stonepot spot this month. "We've always wanted to do something big," Dennis told us. Their vision was to create a dining experience that they felt was missing in San Francisco — a comfortable and personal space, featuring delicious and sustainable food that reaches beyond traditional culinary boundaries. Their mother taught them that a table needs three legs to stand, and that they must stick together to accomplish their dreams. Namu Gaji's Namu Noodle pop-up began in January and appears twice a week at Beachside, offering Pan-Asian comfort food to the neighborhood. They serve Namu Gaji classics, like Dennis' KFC (Korean Fried Chicken) Wings, stonepot, and okonomiyaki, alongside their Namu Noodle offerings; Braised Oxtail Shoyu Ramen, Chicken Ramen, and vegetarian mushroom udon. They're also serving-up a brisket donburi (rice bowl), limelighting their 16-hour almond-wood-smoked wagyu beef, as well as butter mochi (a Hawaiian spin on Japanese mochi) with chocolate sauce and house-made whipped cream for dessert. // namusf.com
Deuki Hong // Sunday Bird
Revered as the Korean-American Anthony Bourdain, Deuki Hong brought his east coast experience to a west coast California kitchen serving mouthwatering chicken bites behind a boba shop. For this food savant, the perfect flavor is all about the produce you choose. For his San Francisco first, Sunday Bird, the choice was clear to open a fully served chicken shop. Knowing Deuki is also entering his world of constant prep, double checking his to-do list, and inevitably preparing for the hungry carnivores that line up around the block at his small window at 1522 Fillmore Street Tuesday through Sunday. For the new chicken shop opener, everyday is a learning curve. Whether it's testing new recipes, interacting with his loyal customers, or even finding time for himself — the "let's-do-this" entrepreneur has put a poultry spell under all his diners. Whether he is cleaning the rice or preparing the bao, it's early to rise and early to bed for this dedicated chef. // 1522 Fillmore St, Western Addition, Sunday Bird Instagram
Fernay McPherson // Minnie Bell's Soul Movement
Chef Fernay McPherson is taking Minnie Bell's Soul Movement into a flavorful arena where foodies can experience the best in what Soul Food has to offer. A San Francisco-native Fernay has been cooking since childhood. The name Minnie Bell's was inspired by her late grandmother Lillie Bell and great aunt Minnie. Using traditional family recipes, Minnie Bell's menu offers up delicious home-style food, combining soulful flavors and southern comfort. Here's what to expect: a hot-sauce-brined, rosemary fried chicken sandwich; a "smothered" tri-tip sandwich; and a vegan sandwich with hummus and sautéed mushrooms. Also she's serving a potato salad, a green salad, a grain salad, and a stew of the day, which could be chicken and black-eyed peas. (Check out Minnie Bell's catering menu here for ideas of what to cater.) Currently, you can find the pop-up at Wing Wings on Haight St. every Monday at 5 p.m. // minniebellssoul.com
Michelle Minori // Barzotto
Before becoming the Barzotto's Chef de Cuisine, Michelle Minori served as Executive Sous Chef of Thomas McNaughton's Ne Timeas restaurant group, overseeing corporate culinary operations for the group's restaurants Flour & Water, Aatxe, Cafe du Nord, Salumeria, and Central Kitchen. Minori was formerly the co-opening chef of Los Angeles restaurant Faith & Flower, and cooked at Il Carne Rosso, Acquerello, La Folie, and Aqua. Minori was originally writing up a business plan for a similar pasta bar in her hometown of Lodi before Marko Sotto sought her out to run the kitchen at Barzotto. Now that's a quite the resume if we've ever seen one. In our eyes, Michelle's pasta menu for Barzotto is clearly unmatched and all new challengers are welcome to try. Bonus fact: twenty-percent of Barzotto's orders are through delivery services like Caviar and Uber Eats. Her pasta is the most mouth watering in the Bay Area, and that's a fact. // barzotto.com
Lori Rich and Chris Gallen // Castro Fountain
Nothing's quite like plopping yourself firmly atop an early twentieth-century bar stool and feeling the effervescence fizzle of a cane-sugar root beer dancing around the back of your soft pallet. Pastry Chefs Lori Rich and Chris Gallen of the nostalgic Ice Cream Bar have now transitioned their infatuation for all things diner cuisine onto the new menu touted by The Castro Fountain. The makers of the very colorful 'Rainbow Cake,' the future seems bright for the two and their space in the Castro. // thecastrofountain.com